The National Significance of the Calumet Region
The National Significance of the Calumet Region
The Calumet Region's national significance stems from how the natural world was changed to make way for industry, transportation and peoples from across the country and the world. The impact of this change is felt in American life and landscape to this day. The preliminary themes, resources. goals/priorities, and boundaries identified in the documents below detail what is nationally significant about the Calumet Region.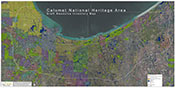 Resource List
The numbered points on this map represent the places, organizations, and events on the ground that support the proposed themes of the Feasibility Study for a Calumet National Heritage Area, and which can be leveraged to achieve regional goals. The anchor points show potential launch points for tours and recreational activities in the region. This is an initial list of resources that will continue to grow. The numbers on the map correspond to the numbers on the resource list.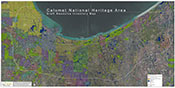 Where is the Calumet region? The study area combines landscape features, what scholars have said, and how the significant themes and inventoried resources tend to cluster.
---
The Calumet Heritage Partnership is a bi-state non-profit
organization dedicated to preserving and protecting the
unique heritage of the Calumet region.
The Field Museum is a partner of the Calumet Heritage Partnership.
Together, they lead the feasibility study to designate the region
as a Calumet National Heritage Area.

The Marquette Plan supports the bi-state effort
of the Calumet Heritage Partnership to establish a
Calumet National Heritage Area.
The Calumet National Heritage Area Feasibility
Study is a priority project of the Millennium
Reserve.
The Field Museum gratefully acknowledges the following partners
for their support of programs in the Calumet Region: